So I have a few alphabets letters after my name... what does it all mean??
LMT= Licensed Massage Therapist
NCTMB= Nationally Certified by the National Certification Board of Therapeutic Massage & Bodywork (This has recently changed to BCTMB= Board Certified in Therapeutic Massage & Bodywork)
I am also MAT-C (Myoskeletal Alignment Technique Certified) and FMS-C (Functional Movement Screening Certified)
OK, let me put this out there... EVERY legitimate massage therapist in the state of Georgia is licensed which means, we all took a test to make sure we know our stuff. The tests varied from time to time because Georgia only regulated massage in 2007. So nowadays, a therapist will take what is called the M-Blex test to make sure they know their stuff. This test is an entry level test.
When you become Board Certified, that means the therapist has taken it a step further and above: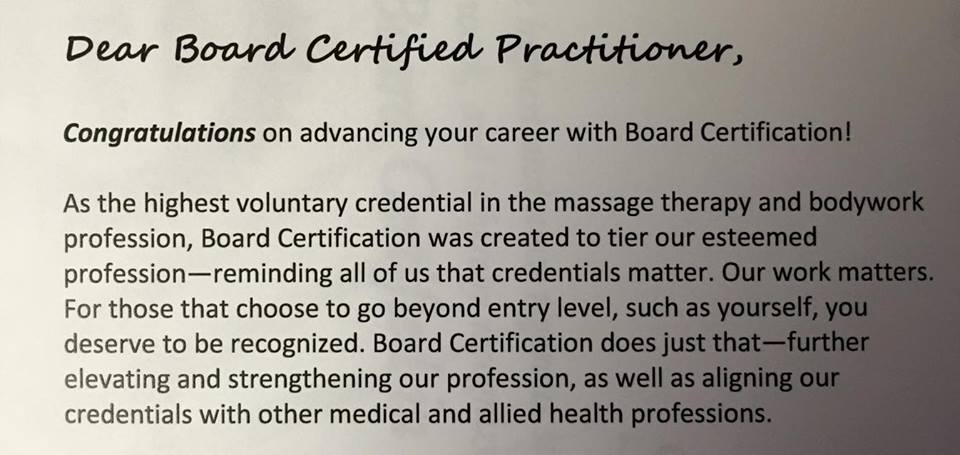 Massage isn't a pampering or an indulgence... it's what the body needs to reset and work!! Wouldn't you want a professional massage therapist that will assess you and really address your problems instead of just rub lotion on you or just temporarily rub the pain away?
My clients come to me because they have PAIN. I have clients from all ages with many different problems that I help them with!! I also help clients prevent pain by maintaining their body so they can move optimally!
Come feel the difference!!
Choose Board Certified Massage Therapists!!